View current and previous Minutes Includes Village Council, Planning Commission, & CIA Minutes with Agendas
Village of Brooklyn
Located in the Heart of the Irish Hills
Scheduled Meetings
Meetings take place at the times and locations below
unless otherwise indicated

. There are times when meetings may be cancelled or held at a different time or location, so please check our Important Notices, Calendar, or call us at (517) 592-2591.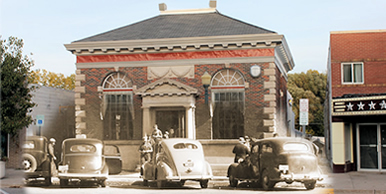 ---
Our Hours
Office*
Monday: 8 am - 4:30 pm
Tuesday: 8 am - 4:30 pm
Wednesday: 8 am - 4:30 pm
Thursday: 8 am - 4:30 pm
Friday: 8 am - 4:30 pm
*Closed for lunch 12:30-1:30
---
After-hours water & sewer emergencies: (517) 796-2916
About the
Village of Brooklyn
Brooklyn, Michigan is a cozy town snuggled between three lakes in the Heart of the Irish Hills. This growing community continues to have new businesses open within the village limits enabling the town to be a complete shopping center.
Two mini-plazas have been established between the downtown area and the shopping mall to the south side of the village, adding many small businesses of interest to shoppers. For summer visitors and permanent residents, the community can provide for every need.
There are more than 50 lakes within a 10-mile radius of the Brooklyn Village limits which have given it the title "Heart of the Lakes." Many businesses and service groups have adopted this slogan as a part of their name.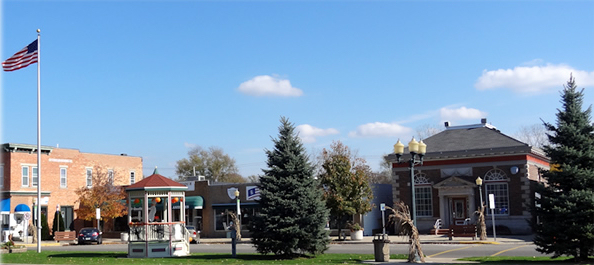 Three of the lakes are large and support substantial numbers of visitors for summer and winter fun. Wamplers Lake, Clark Lake and Vineyard Lake all have parks. Hayes State Park is located at Wamplers Lake and county parks are at the other two lakes. Clark Lake also has a township park. Lake Columbia is a man-made, private lake. Property association members have a number of parks maintained for their private use. Many new homes are being built in the area as people discover this wonderful area.
Historical Information
1832

The Village of Brooklyn was founded in June 1832 when Calvin Swain filed a land claim for a forty acre plot of land. Calvin Swain was a reverend who was born in New York State in 1778. He purchased the land in Brooklyn because he saw the need for a sawmill. Not only did he established a sawmill but he also became the founder of Baptist churches of Brooklyn, Napoleon Twp. and Woodstock Twp. Brooklyn was originally called Swainsville until August 5, 1836 when a document was filed with the Jackson County office after a vote of the people to officially change it to Brooklyn.

Through the years many events have molded the Village of Brooklyn along with surrounding areas. As Brooklyn grew in the late 1800's a post office was established within the Village limits. The location of the post office has moved several times but it has always been housed within the Village. Due to this occurrence (besides the Columbia/Johnson Post office in the late 1800's and early 1900's) the many surrounding townships have a Brooklyn zip code even though they do not border the Village.

1938

The Village has had several influential land owners and residents through the years. In 1938 Henry Ford of Ford Automotive Company began construction of a small factory in Brooklyn to produce small parts for his vehicles. Mr. Ford built several of these plants in small towns by small bodies of water in order to utilize water-power mills.

The Village has served as the commercial center for area attractions. The Brooklyn zip code encompasses several lakes but four large lakes; Columbia, Clark, Vineyard and Wamplers Lake are all within a 5 mile radius. These lakes along with Michigan International Speedway (established in 1968) have provided Brooklyn numerous visitors since the early 1900's.
Village of Brooklyn is a great place to

visit!

shop!

live!
Jackson County... Brooklyn, Michigan